Welcome Welfare Combo for Italian or foreign citizen residing in Italy (with a long-term residence permit) who wants to access high value-added solutions integrating public welfare.
This Welcome Combo is not valid for requesting or renewing entry visa, residence permit or registration in Italy.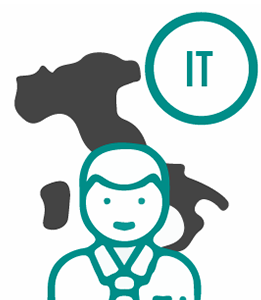 Membership Fee
Insurance Coverage
Stamp Duty
at
40€
What is included in the combo
Updates on events promoted by the Association and on all the news concerning immigration and welfare
assistance in filling out paperwork to regularize stay in Italy (residence permits);
information on banking agreements (current accounts, mortgages, loans, etc.) and insurance;
news on health benefits offered by partner medical centers;
tax and legal assistance for individuals and companies;
discounts for training courses dedicated to members.
Medical consultation by phone;
sending a doctor home in Italy in case of urgency;
transfer to a hospital in Italy;
return from the hospital in Italy;
access to the network of affiliated clinics;
travel of a family member in Italy in the event of an accident;
interpreter available in Italy in the event of an accident;
sending an ambulance home to Italy;
pediatric / geriatric / gynecological / cardiology consultation by phone;
second medical opinion for further in-depth-analysis of the first diagnosis;
recommendation of a specialist doctor in Italy;
delivery of medical results at home in Italy;
adaptation of the house (disability 70%) in Italy.
Services provided by Europ Assistance Italia S.p.A. –Consult the information set
MyClinic, Europ Assistance's digital health platform, allows you to carry out a self-analysis of symptoms, ask the doctor for an opinion and always carry your medical file with you.
MEDICAL CONSULTATION
Team of doctors available 24 hours a day. Through a device you can request the consultation of a general practitioner or a specialist including pediatrician, gynecologist, cardiologist, orthopedist, neurologist, geriatrician, psychologist or nutritionist.
SELF-ASSESSMENT OF SYMPTOMS
A certified algorithm allows you to self-evaluate symptoms and receive advice on how to behave immediately.
ONLINE MEDICAL RECORD
It allows to have the clinical data always available; just enter any allergies, surgeries performed, medications, pathologies and reports. Possibility to share it with the doctor or take it with you translated when you are abroad.
Services provided by Europ Assistance Italia S.p.A. – Consult the information set