Do you need accommodation in Turin? ALLOGGIAMI MIRAFIORI STUDENT HOUSING takes care of it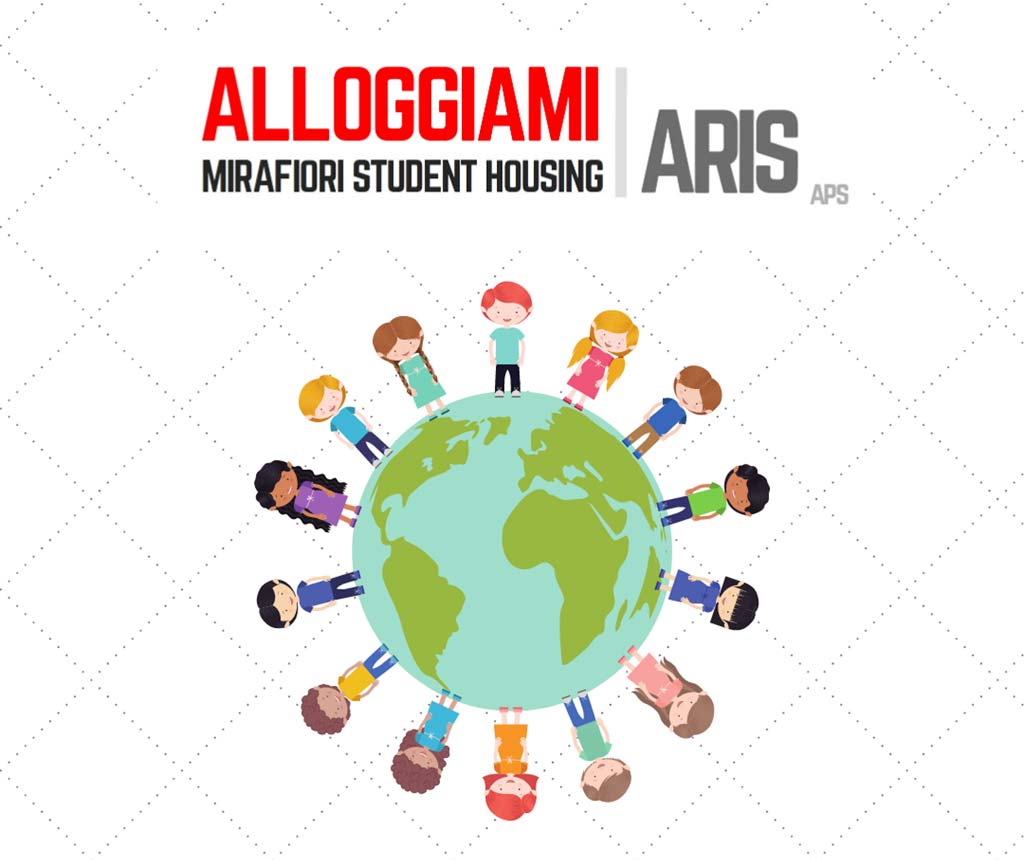 Alloggiami Mirafiori Student Housing is a non-profit run by Tecla Zaia, involved in welcoming students, PhDs, Interns, transfer employees etc. in the quarter of Mirafiori Sud, Turin.
ASSOCIAZIONE ARIS
CF: 97746850011 PI: 11997990012
Office: +39 011-18838981 Mob: (+39) 3755442079
Email: info@alloggiami.com
Via Celeste Negarville, 8/48 bis, Torino (TO) – Italia.
Office Timings
Monday- Friday: 10:00 – 12:30; 13:30 – 19:00
The apartments involved in this project are located in the area between Corso Unione Sovietica, Via Anselmetti, Strada del Drosso and Via Plava. A single or double room is provided in a shared apartment with other students. The apartments are fully furnished with Internet access. Long stay contracts are registered at Agenzia delle Entrate.
Long Stay Rent
3-12 Months
Shared or Single rooms with 3 to max 6 students depending on the apartment.
All-inclusive rent includes gas, water, electricity, internet, taxes of any (governmental) institute and all other concomitant deliveries and services*
Shared rooms: 130-150€/month* + expenses (electricity, water, gas, spent, heating and wifi)
Single rooms: 200-250€/month* + expenses (electricity, water, gas, spent, heating and wifi)
*Some of our apartments require one month deposit (rent only) or if a student is expecting results from Edisu for his or her hostel accommodation.
Short Stay Rates
(5-29 days) | July – October Every Year
There will be a private single room or a double room in a shared apartment with other double/ single rooms with a max of 6 students.
Inside the incoming form "short stay" option will be kept open during July – October
Shared Rooms: 12€/night* + 22% IVA
Single Rooms: 15€/night* + 22% IVA
*Short stay rooms are provided from 5-29 days for students who are new to the city, apartment seekers, EDISU students who are on the waitlist, and many more. Prices are per night and advance payment (not refundable) has to be made to reserve your place. Students wouldn't have to pay touristic tax if they can demonstrate their university status, else an amount of 2,30€/ day will be added (Max 7 days).
Renewal of a contract comes with an administration charge of 20€
Terminating or modifying a contract will incur a penalty amounting to 60€
Upon signing the contract, the tenant will pay an annual Association Fee of 20€ + appreciated contribution which is aimed at sustaining the Alloggiami project: events, activities and student volunteer retribution. (Paid irrespective of leaving the project and coming back again the same year) The contract provided cannot be used for attaining residenza or carta d'identità
Some apartments may require an additional contract registration fee which would be added additionally to the annual association fee and notified accordingly to the tenant